Skip to Content
Beautiful Artificial Grass Installation in Aurora, CO
All you want from your lawn is for it to grow healthy and green, so you spend countless hours every week doing your best to maintain it; however, no matter how much work you do, the smallest kink in the weather can upset your entire plan. Let's face it: lawns can be a nightmare to keep up with. In the colder weather, leaves and snow can coat the ground, shielding your grass from the sun. In the summer, sun-parched droughts wither everything for months on end, forcing you to pump gallon after gallon of costly water onto your lawn. Even the tiniest of critters, like prairie dogs or gophers, will tear up a yard quicker than most people realize. So why go through these trials and tribulations when there's a far easier answer. Get a brand-new lawn! Call Blue Sky Hardscapes and Irrigation in the Aurora, CO, area to install artificial grass and be rid of the worry and anxiety of keeping a traditional yard up to snuff.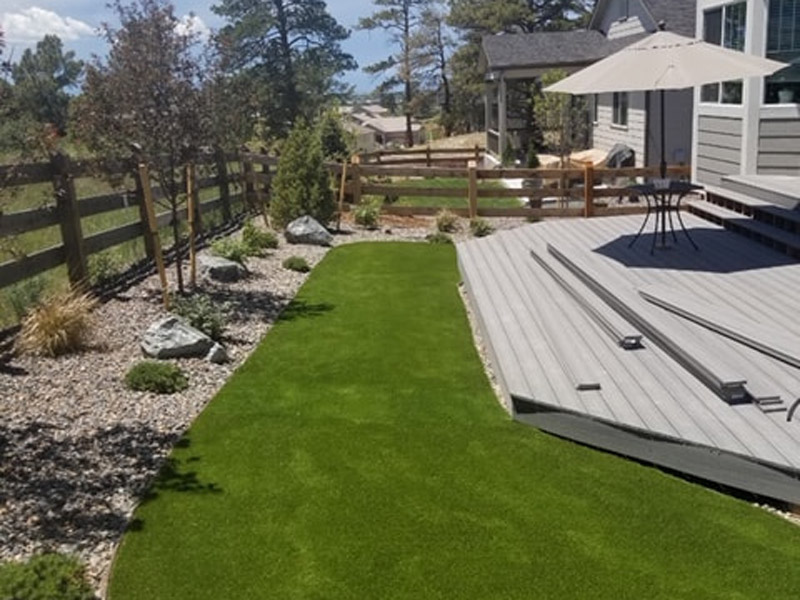 Benefits of Synthetic Grass
Using synthetic grass throws out all of the problems a naturally-grown grass yard carries in tow, and with the vast selection of artificial grass textures, lengths, and colors, you're able to truly build the lawn you've always wanted. There's no need to mow or water artificial turf, which means no maintenance costs (time OR money), and yards built from artificial grass will last upwards of 25 years. That's 25 years of no costs and no fuss. Your time and energy are valuable commodities, so why waste them pulling weeds and paying for sprinkler systems when you could have the perfect yard that will look brilliant throughout every month of the year.
FAQs About Artificial Grass
Here are some frequently asked questions we receive about an artificial grass:
What is artificial grass made of?
Artificial grass is made of either nylon or polypropylene formed into the familiar "bladed" shape. A cushioning system is made from rubber compounds or polyester foam.
Is artificial grass safe?
Yes, artificial grass is non-toxic and completely allergy-free.
Is artificial grass maintenance free?
After installing your synthetic grass, there are no further maintenance costs for upkeep. Your grass will go 15-25 years without needing a single drop of water.
Can you use artificial grass for residential lawns?
Of course! It's great for bringing a house's exterior aesthetic to its fullest potential.
Is artificial grass dog-friendly?
Yes, pets of all kinds have no problems with artificial grass.
Contact Us Today to Refresh Your Lawn
Blue Sky Hardscapes and Irrigation is the premier backyard renovation company in the Denver Metro area, and we're dedicated to professional quality and friendly customer service. If you need help in deciding what kind of yard you're looking for, or if you'd like more information on artificial grass installation services in Aurora & Denver, CO, give us a call. Avoid the stress of lawn care and get the peace of mind in knowing your yard will always look its best.
Contact us today and refresh your lawn with artificial grass!
Trust Our Hardscape & Irrigation Experts