Skip to Content
Commercial Snow Removal in Aurora & Denver, CO
For over 25 years, Blue Sky Hardscapes & Irrigation has helped commercial businesses and homeowners in Aurora, Centennial, Parker, and south metro Denver, with their snow plowing and removal needs. We ensure the safest conditions through Colorado's unpredictable and sometimes harsh winters. When landscaping and hardscaping season ends, our snow plowing begins. We specialize in commercial snow plowing. We understand snow shoveling is strenuous on your body and time-consuming. Save yourself the strain and leave the snow removal to the professionals. Call us to reserve your spot for the season.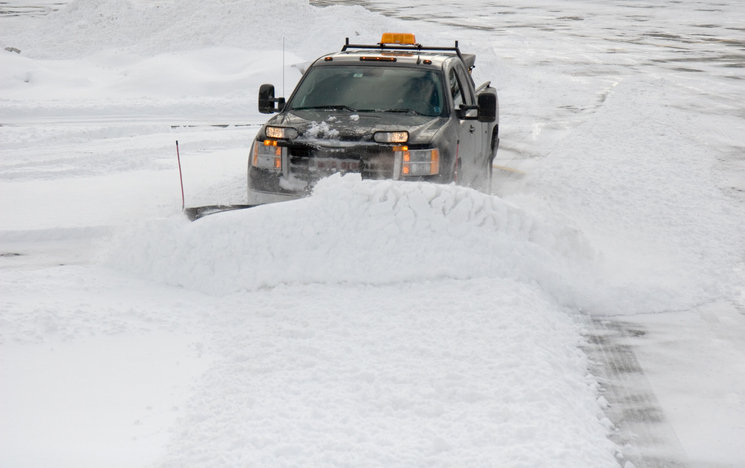 Commercial Snow Removal Services
A clear path to the door of your business is essential for the safety of your customers and employees. We understand the business parking lot, entrance, and sidewalks should offer a clear path free of snow and ice. Our snow and ice management crews provide snow plowing, shovel your walkways and sidewalks, apply salt and liquid de-ice applications for ice control and remove your snow and ice. We follow all safety protocols to ensure maximum safety for all employees and ensure no damage is done to your commercial property. We'll keep you safe and open for business without worrying about piles of snow and ice.
Benefits of Hiring a Snow Removal Service
There are many benefits to hiring a snow removal service, including:
Never worry about snow shoveling injuries
No reason to purchase, maintain or store snow removal equipment
Stay warm inside while someone clears your walkways for you
Peace of mind knowing your walkways and driveways are clear when you're out of town or at work
Preserves landscaping for a healthy look once the snow melts
Reduce liabilities by ensuring commercial walkways are clear of snow and ice
Why Choose Blue Sky Hardscapes & Irrigation?
Blue Sky Hardscapes & Irrigation is happy to serve South Metro Denver, CO, and the surrounding areas with hardscaping and landscaping services. Our mission is to ensure you're happy in your home or office with a beautiful exterior. Besides snow removal, our comprehensive suite of services includes:
Contact Blue Sky Hardscapes & Irrigation
Blue Sky Hardscapes & Irrigation has more than 25 years of experience serving our customers with the highest quality hardscaping and landscaping services. Instead of worrying about shoveling snow in freezing conditions, we offer optimal snow plow and snow removal services for your commercial properties. No matter the size of your property, we'll keep it safe and looking great with our snow removal services. Contact us today!
Trust Our Hardscape & Irrigation Experts