Skip to Content
Landscaping Services in Denver, Aurora, and All Surrounding Areas
At Blue Sky Hardscapes and Irrigation, we strive to provide you with the outdoor space of your dreams. A beautiful new landscape will turn your home or business into the showcase space you've dreamed of and provide the curb appeal that everyone will enjoy. It will also enhance your hardscape and provide you the best outdoor living space imaginable. Not to mention, this new space adds value to your home or business. Blue Sky Hardscapes and Irrigation has been dedicated to providing superior quality residential and commercial landscaping services to the entire Denver Metro area for over 25-years. We are fully licensed, insured, and bonded. Our professionals are dedicated to quality control and complete customer satisfaction for all projects, large and small.
Key Design Elements
These key design elements help in creating unified landscape. Mass, form, lines, and voids are crucial to organizing your space.
Mass
Mass describes space occupied by a group of objects. Planting beds, a home, patio and arbors all have mass. The key is to balance the mass of objects in a landscape. Components should be sized according to what surrounds them. For example, planting beds should be sized in relationship to the lawn, home or nearby hardscape.
Form
Many forms exist in a landscape, be they, shapes of the home, pathways or driveways. A topography, hardscape, or plant delineates other forms such as squares, circles, or triangles. Plants too, have individual forms ranging from flat or spreading. When plants are arranged in groups, they take on a new form. Landscape forms evoke emotions and create ambiance. Rectilinear forms feel structured and formal, circles are soft, triangles are strong, and irregular shapes are casual and free.
We can take advantage of form in a design to set the mood of a landscape.
Lines
Line is used to carry the eye through a landscape and it creates a physical flow. Vertical lines are useful in expanding small spaces. Horizontal lines make a space feel broader. Consider line when shaping beds and walkways, or in choosing hardscape elements such as fences. Visualize how a straight or curved line might direct the eye through the landscape toward a focal point.
Voids
Empty spaces fill areas and contain visual mass. Empty spaces are just as important as an occupied space. These voids balance the design. Far too often, patios, lawns, and other voids are composed of leftover space.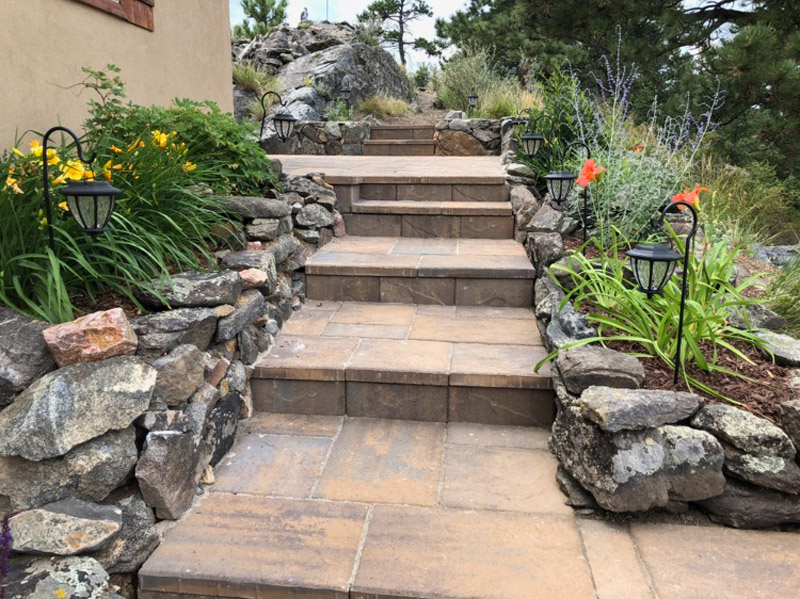 Residential Landscape Design Services & Construction
Our Experts will help you to Design and build out a Beautiful Landscape for Your Aurora, or Denver Metro Area residential property.
As you know, your outdoor living space is an extension of your home. Our award-winning landscapers will help you design and construct your dream outdoor space.
Whether you want to build upon your existing space or you wish to create a custom designed oasis from scratch.
We Handle Every Step of the Landscaping Process from concept through bringing your vision to fruition.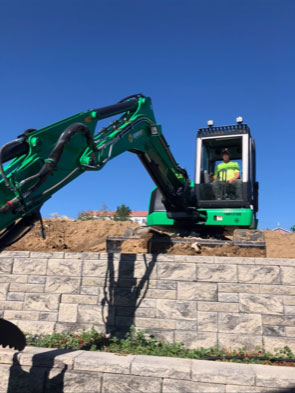 Commercial Landscaping Construction
Your landscape design is all about making a good first impression for all who visit or drive by.
Our expert team will handle your commercial landscape project from start to finish, No matter the size.
Our experienced team has in-depth understanding of how to best achieve your specific project needs from budgeting to close out of the project.
You will have an in-depth consultation with one of our Project Managers to ensure we are on the same page from project start to project completion.
Blue Sky Hardscapes & Irrigation strives to meet your objectives in a timely and professional manner.
Once the project is completed, we will provide a walk-through, which includes instruction on caring for your new landscape.
Call us today for your free residential or commercial estimate.
Trust Our Hardscape & Irrigation Experts