Skip to Content
Hardscaping Design Services in the Denver, CO Area
The Best Hardscape Contractors
Transform your outdoor living dreams into reality with Blue Sky Hardscapes & Irrigation's premier hardscaping services in Denver, CO. Our skilled team specializes in creating captivating outdoor spaces that blend seamlessly with the natural beauty of your surroundings. Contact us today to schedule a consultation on your hardscape ideas and embark on your hardscaping journey with us.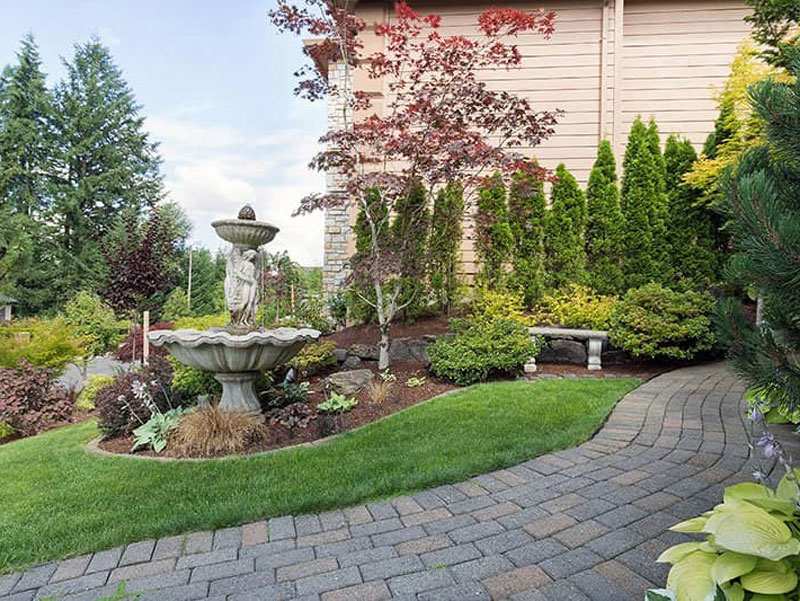 What Is Hardscaping?
Hardscape refers to the non-living, solid elements of landscape design and outdoor architecture. In contrast, landscape involves the living, natural elements like plants, trees, and grass, focusing on aesthetics, ecology, and the integration of greenery. Hardscape design elements provide functionality, define spaces, and contribute to the overall aesthetics and usability of gardens, yards, and other outdoor environments.
Available Hardscape Landscape Options From Blue Sky
For the past 25 years, Aurora, CO, residents have trusted the Blue Sky team's design abilities and craftsmanship when it comes to our custom hardscapes. We have built many throughout the years using different natural stones and other materials to ensure you are in love with your yard and its new outdoor living features. Anything from basic concrete driveways to ornamental fire pits. We have even created outdoor kitchens for those who wish to spend all their time outdoors. Your new hardscape design may include the following elements:
Fire Pits – If you want to get more out of your newly designed yard, we would recommend adding a fire pit. The fire will keep you warm in the cold months and let you and your family sit and enjoy the outdoors all year long. We offer many different natural stone options and have built fire pits with many materials, such as pre-formed stone and double-sided, and we can even custom design you a pit.
Outdoor Kitchen – Do you love entertaining guests with your cooking skills, but your kitchen indoors isn't large enough to support cooking and bantering? Blue Sky has the perfect option: an outdoor kitchen. And we mean more than your charcoal grill next to your garage. Our designers and builders want you to have a wet bar, a brick oven, and, of course, your charcoal or gas grill.
Stone Paths – If pavement or sidewalks are too rigid for your design ideas in your backyard, let us suggest the hardscape of stone paths. Hardscape pavers are a more artistic approach to guiding your guests from the front yard to the back and allow for more options to help meet your needs and wants for the perfect yard.
Sidewalks – This traditional concrete walking path will ensure no one gets lost at the next party. Your guests will easily navigate your yard and be able to move around your property quickly. We offer many different designs and styles to choose from, so your new hardscape matches your existing theme perfectly.
Pavement – Most people think of roads and sidewalks with a flat finish when they think of pavement. Blue Sky wants to help change your opinion and open you up to the many different options we have for paved hardscapes.
Retaining Walls – Solve your yard's grading issues with an aesthetically pleasing retention wall. This hardscape option serves the purpose of protecting your current landscape and home from landslides. They also reduce erosion while giving you a new space for more plants!
Tips for Planning Your Hardscaping Project
To plan a successful hardscaping project, follow these key steps: First, set clear goals by defining your project's purpose. Next, establish a budget to prevent overspending. Work with your hardscape contractors to choose materials that align with your goals and budget. Collaborate with a professional designer for a well-thought-out design plan that complements your surroundings and who can guide you in checking local regulations for necessary permits. Be sure to address drainage concerns early to prevent issues after your hardscape installation is completed.
FAQs
Have questions? Here are some hardscaping FAQs:
Hardscaping can enhance the aesthetics of outdoor areas, increase property value, provide functional spaces for entertainment and relaxation, and help with erosion control and drainage.
The choice of materials should consider factors like durability, maintenance requirements, cost, and aesthetics.
Complex hardscaping projects benefit from the expertise of a professional landscaper or contractor.
Contact Us To Begin Your Hardscaping Journey
Elevate your outdoor living dreams into reality with Blue Sky Hardscapes & Irrigation's premier hardscaping services. Contact us today to schedule a consultation and embark on your hardscaping journey with us.
Trust Our Hardscape & Irrigation Experts