Skip to Content
Hardscapes in Aurora and Surrounding Areas
Do you want your property in the Denver Metro area to look beautiful and landscaped, but don't want to have to mow such a large area? The professionals at Blue Sky Hardscapes have been coming up creative solutions and filling the negative space in yards with custom hardscapes such as fire pits, sidewalks, walkways, driveways, outdoor kitchens, patios, and more. A well-designed and built hardscape can last for years and hold up to all of the various elements in Aurora, CO. They will also let you enjoy your yard throughout the year. Even in the winter, a custom stoneware fireplace will keep you and your friends warm, and a patio with a roof won't let the rain ruin your next gathering. When it comes to your new hardscape, you have many choices to make, and our team at Blue Sky Hardscapes & Irrigation can assist you with the design process.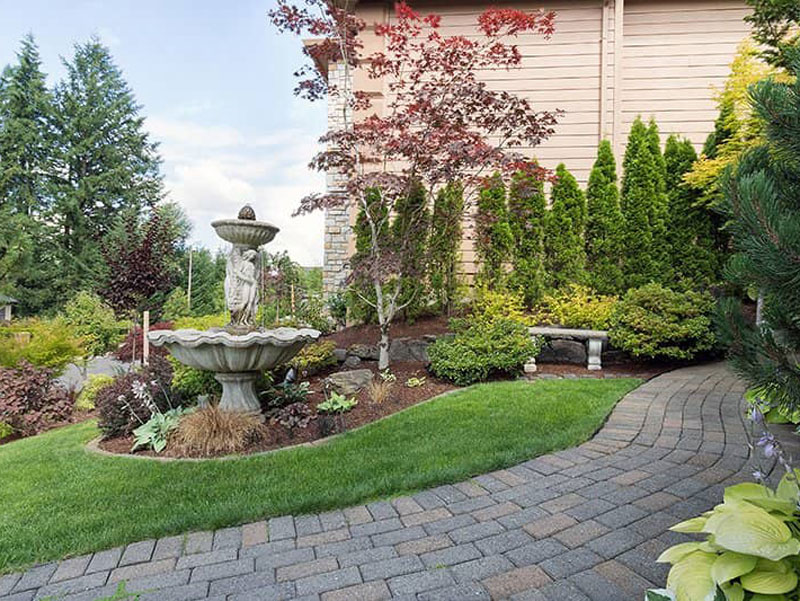 Beautiful Outdoor Living Spaces in the Denver Metro Area
Sometimes all you need to finish your backyard and make it perfect is a fun, paver stone pathway that leads your guests from the back of the house to the front. Other times you need an entire patio added onto your home with a roof to be able to party without getting rained on in a storm. Our professionals have seen and built it all. You can trust us to take your backyard from great to fantastic by adding custom-built hardscape features. Outside of being valuable additions to the yard, hardscapes help even further by creating a balance between natural and humanmade aesthetics.
Available Hardscape Options From Blue Sky
For the past 25 years, Aurora, CO residents have trusted the Blue Sky team's design abilities and craftsmanship when it comes to our custom hardscapes. We have built many throughout the years using different natural stone and other materials to ensure you are in love with your yard and its new outdoor living features. Anything from basic concrete driveways to ornamental fire pits. We have even created outdoor kitchens for those who really wish to spend all their time outdoors. Your new hardscape design may include the following elements:
Outdoor Kitchen
Do you love entertaining guests with your cooking skills, but your kitchen indoors isn't large enough to support cooking and bantering? Blue Sky has the perfect option: an outdoor kitchen! And we mean more than your charcoal grill next to your garage. Our designers and builders want you to have a wet bar, brick oven, and of course your charcoal or gas grill because what party is complete without some grilled meat and veggies?
Sidewalks
This traditional concrete walking path will ensure no one gets lost at the next party. Your guests will easily navigate your yard and be able to move around your property quickly. We offer many different designs and styles to choose from, so your new hardscape matches your existing theme perfectly.
Contact Us Today to Get Started on Your Hardscape Project
Our professional Aurora hardscaping team is prepared to handle the job from start to finish promptly, causing as little disruption as possible. We want you outside and enjoying your new investment! Landscape and hardscape additions add value to any home when it comes time to sell. From placing tiny stones in a walkway to accenting your existing landscape to larger-scale projects such as a new roofed patio, we can do it all. Do you need help planning and designing your landscaping and hardscape projects? Are you ready to start your hardscape design and installation? Call us today at 303-915-2188 if you would like to request a free estimate to upgrade your yard in the Denver Metro area!
Trust Our Hardscape & Irrigation Experts