Skip to Content
Aurora Fire Pit Installations
During the winter in Aurora, CO, most people do not get to enjoy their outdoors because it is too cold to stand or sit outside on the back patio. However, with the help of an outdoor fire pit, you may be able to enjoy the colder months longer and even entertain guests. Adding a fire pit can not only help you get more enjoyment out of your property, but it can also add a certain sense of ambiance and radiant light to your landscaping. One of our fire pits will set the mood any time of the year for your Aurora, CO home.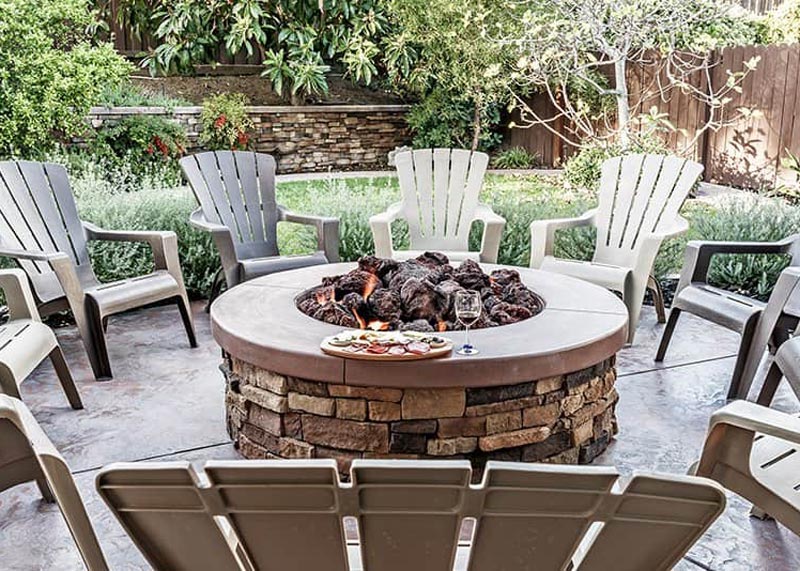 Hardscapes to Keep You Warm & Cozy During Winter
We can offer you a number of different types of fire pits, such as:
Custom Fire Pits
Our team has been designing and installing hardscapes for the past 25 years. It would bring us great joy to custom-build an outdoor fire pit for your backyard. We want Aurora, CO to enjoy their yard as much as possible. Whether you have an idea in mind or need some help matching your current other hardscapes and landscapes, we are here to assist. We have plenty of natural stones to choose from as well as bricks. We will have you sitting by the fire and will help you stay warm this winter in your backyard.
Double-Sided Fireplaces
For better control on the heat your guests' experience, consider a double-sided fireplace as your new hardscape option. Having a retractable glass on two different sides means you can open one to let the heat out and close the other for those just looking for a warm ambiance. Either way, this classy addition will have you on your patio no matter the weather.
Bricks
Do you dream of spending cold winter days bathed in the heat and soft glow of a fire outside? Our bricks are an excellent option to build your new fire pit. We help you stay warm during the winter by building fire pits custom-made to your request. While we make them using different stones, we have a variety of bricks for you to choose from.
Use Gas or Natural Burning Wood in Your Outdoor Fire Pit
Outdoor fire pits can either use gas or natural burning wood to keep you and your family warm on your patio throughout the year. Even in the summer, a small fire can be a nice addition to the party. It helps by putting off the light and reducing your need to use electricity to be able to see all your guests. This hardscape option creates the perfect atmosphere whether it is a large party or a romantic night for two. We offer many different options when it comes to design and can even custom-build you a fire pit to meet all your expectations. There are two types of fire pits though, and that is where the design process will begin after you have decided to have Blue Sky Hardscapes & Irrigation bring you warmth and ambiance with a new outdoor fire pit:
Benefits of a Gas-Burning Fire Pit
If you want a cleaner-burning fire that is quick to light, then you should have a gas-burning fire pit installed as your new hardscape feature. Gas-burning fire pit options are more environmentally safe and friendly. They can also run continuously uninterrupted and won't require you to keep getting up and adding more logs or safely turning them for a more balanced heat and flame. Typically, these options are a little high in price, to begin with, but over time you will end up saving money.
Benefits of a Wood-Burning Fire Pit
If you want a fast installation and a more natural burning fire hardscape feature, then a wood-burning fire pit is perfect for your home. They will boost the aesthetics of your home and are a better more comforting experience with family and friends.
FAQs About Fire Pits
Can I use manufactured logs in my wood burning fire pit?
You can use these types of wood to help with longer burning and easier starting, but it should be known these types of wood have chemicals soaked into them to help achieve the desired goals.
Can I cook on my gas fire pit?
Cooking on your gas fire pit is not recommended.
How should I clean my wood burning fire pit?
Using a dishwashing soap is recommended for cleaning. Make sure you properly dispose of the ashes in the fire pit before cleaning. Also, wait until the pit has cooled to the touch before attempting to clean.
Will wind affect my gas burning fire pit?
Your fire should be unaffected by the wind, but if it is, then you should move inside and not use your fire pit during such wind storms.
How long will a 20lbs propane take last me and my fire pit?
If your gas fire pit is burning consistently, you should see about 10 hours' worth of flame. You should consider this the average though, and there may be less or more than ten exact hours.
Does it matter what type of wood I use in my outdoor fire pit?
Dry, seasoned hardwood is the answer. Try and find well-seasoned wood that has a very low moisture level. This helps it burn more evenly and with less smoke.
Contact Blue Sky to Get Your New Fire Pit Installed in the Denver Metro Area Today!
At Blue Sky Hardscapes & Irrigation, we can help you choose and install a fire pit that is a beautiful focal point of your overall landscaping design. Contact our Aurora, CO hardscaping team today at 303-915-2188, and request a free estimate on fire pit installation and other hardscape services.
Trust Our Hardscape & Irrigation Experts