Skip to Content
Designing & Installing Patios in Aurora & Denver, CO
Homeowners throughout Denver, CO, and the surrounding area trust Blue Sky Hardscapes & Irrigation for all of their patio service needs. For more than a quarter-century, we have been a regional leader in landscaping, hardscaping, concrete, irrigation, and more. Within that realm, patio services are among our specialties. Our team of professionals can install patios of all varieties. We are happy to provide a consultation to help devise the patio of your dreams, choosing from materials such as concrete, brick, or stone. We have extensive experience creating exceptional patios, and we are committed to customer satisfaction following every project. Call us today to learn more about how our patio services can help enhance your home.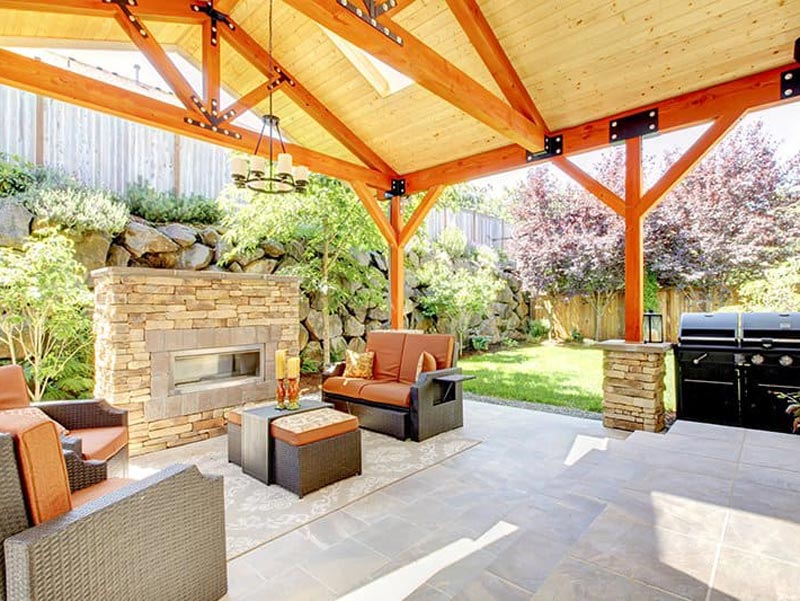 What Is a Patio?
A patio is a versatile outdoor landscaping feature that can be attached to your home or stand-alone. It almost always features a large paved surface where you and your guests can congregate in an open-air setting. Denver homeowners can enjoy time basking in the glow of a Rocky Mountain sunset while visiting with friends and family on a beautiful summer afternoon. A patio is great for dinner parties and small gatherings, and there are many types of patios from which you can choose.
We Offer Several Types of Patios
Blue Sky Hardscapes & Irrigation can install patios comprising various materials. Consult with our experts before choosing which patio may work best for your home. We have decades' worth of industry experience, so we can help you visualize a perfect patio to match your style and fit within your budget. The materials we can use to create your patio include:
Concrete
Among the most popular patio materials is concrete. Our professionals can perform pristine concrete patio installation services to lay the foundation for your backyard get-togethers. We can even suggest ways to enliven concrete's appearance. Do not settle for a dull gray slab beneath your feet. Let us customize your patio to reflect your taste and complement your home.
Concrete Pavers
We also perform brick paver patio installation for homeowners throughout the area. By using individual units, you can make it easier to replace small sections if there is ever a stain or damage. But our high-quality bricks are made to stand the test of time and heavy foot traffic so that you can enjoy regular parties for years to come.
Natural Stone
The Blue Sky Hardscapes & Irrigation team is equally adept at performing natural stone patio installation. We use materials such as limestone, quartz, flagstone, fieldstone, and bluestone to create a magnificent outdoor area that is sure to impress your loved ones. Take advantage of a wide range of shapes, sizes, and colors associated with natural stone.
Benefits of Having a Patio at Your Home
There are numerous financial, aesthetic, and social benefits of installing a patio at your home. Our client's wax poetic about the boost to their spirits even a simple patio can provide. Some of the most apparent benefits are:
Increased Home Value
A patio in your yard can add significant value to your home, providing a good return on investment when you decide to move.
Extended Living Area
Rather than huddling together inside your house during parties, you can enjoy additional living space with luxurious tables and chairs on a patio.
Low Maintenance
In terms of home additions, patios may require the least amount of maintenance. They can handle the Denver elements beautifully, and you can call us for any patio installation services you may need.
Lighting Packages for Your New Patio
Blue Sky Hardscapes & Irrigation often incorporates built-in lighting options into our hardscaping and patios. These lights make your outdoor living space safer while enhancing its visual appeal. A few options we have for our lighting packages include the following:
Step Lighting
Installing this lighting option in your outdoor stairs makes it easier to walk up and down steps without tripping or losing your footing. We carefully place these lights to illuminate steps of all types, from natural stone to concrete stairs.
Patio Lighting
Make your patio more inviting at nighttime with lighting. Our team works with you to determine how bright you need your outdoor patio and where to place these lights to optimize its appearance and comfort.
Outdoor Living Space Lighting
If you have pathways leading to scenic hardscapes in your backyard or covered outdoor living space, we can install custom lighting options to enhance your enjoyment at night. Our lighting options include built-in overhead lights, hanging lights, and other bright ideas.
Our Team Offers Unrivaled Quality and Service
When homeowners in Denver want or need patio services, they know to call Blue Sky Hardscapes & Irrigation. There are dozens of landscaping companies in the area, but none can offer the combination of experience, breadth, and service that we can. We have been beautifying yards and homes in the region for more than 25 years, and our scope of services includes far more than just patios. Our team can improve your landscaping and hardscaping, providing significant short- and long-term value. We are fully licensed and insured, and our professionals are driven by a desire to deliver complete customer satisfaction with every job. Let us show you how we define superior customer service.
Contact Blue Sky Hardscapes & Irrigation Today
A house feels more like a home with the addition of a patio. You can venture from the couch and dining table into the crisp Rocky Mountain air to enjoy the company of friends, family, and neighbors. Blue Sky Hardscapes & Irrigation will perform brick, concrete, or natural stone patio installation on your Denver property so that you can entertain guests for cookouts, happy hours, or even intimate date nights under the Colorado stars. Contact us today to learn more about our comprehensive patio services.
Trust Our Hardscape & Irrigation Experts