Skip to Content
Outdoor Kitchen in Aurora & Denver, CO
About Outdoor Kitchens & Putting One at Your Home
Blue Sky Hardscapes & Irrigation takes pride in our comprehensive services for residents in Aurora and Denver, CO. Building an outdoor kitchen at your home is an excellent way to utilize your outdoor space with quality flooring, canopies, grills, and other structures and appliances. An outdoor kitchen puts various indoor cooking features in your backyard, so you can prepare food and drinks in a covered or uncovered space and enjoy options like a dining area, stone countertops, a refrigerator, and a sink. As a seasoned hardscaping and irrigation company, we have expertise in a wide array of ways to beautify your outdoor spaces and make the most of them whenever weather lets you indulge, including fire pits, landscaping, and attractive pavers. We can help you build a modern outdoor kitchen with all the features you need to enhance your time at home.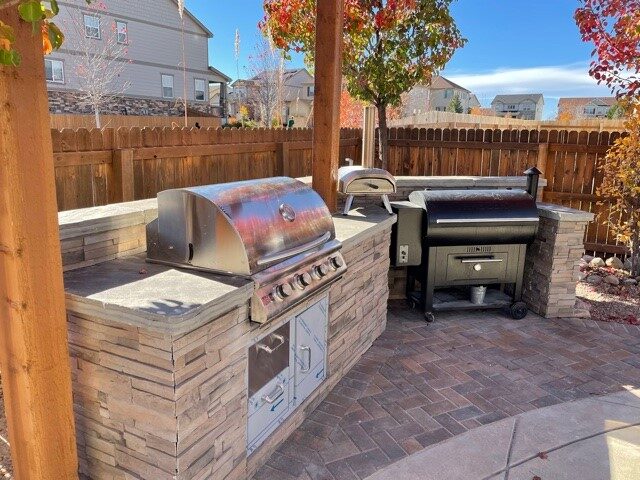 Outdoor Kitchen services provided by Blue Sky Hardscape & Irrigation

Finding a qualified and experienced service provider to build your outdoor kitchen can be difficult, but Blue Sky Hardscapes & Irrigation makes the process simpler with our expertise in everything you need for it. Our team of highly trained outdoor experts covers every step of the process. You can rely on us for consulting and planning services, including choosing a perfect location to place your outdoor kitchen. We also handle its construction or installation to ensure you get high-quality results and safe, efficient work without cutting corners. If you need a dependable source for appliances and accessories, we can help you choose and install a broad range of products. As a local outdoor kitchen contractor, our team can guide you through selecting the perfect touches to your kitchen space, such as a brick oven, wet bar, charcoal or gas grill, pergola, or fire pit. Every customer deserves a space they love, whether their vision includes a rustic or modern design for a large or small outdoor kitchen. We tailor our services to fit your needs, preferences, and budget.
Benefits of Building an Outdoor Kitchen
Building an outdoor kitchen at your home might seem like a significant project, but the advantages of this living space make it well worth the time and money. Blue Sky Hardscapes & Irrigation can give you many benefits to an outdoor kitchen, including the following:
Increases Your Home's Value – You might be able to sell your home for almost 30 percent more than you'd expect by installing an outdoor kitchen. Home improvements like outdoor kitchens have a proportional return on investment to your home's location and value.
Expands Your Living Space – An outdoor kitchen is your chance to increase your usable property space for gatherings and entertainment. You can enhance your outdoor space with cabinets, countertops, and other design features reflecting your style.
Great Place to Entertain – Boomers and millennials love a home with an outdoor entertainment space. They use outdoor kitchens for grill nights, outdoor yard games, and generally preparing, cooking, and eating meals in an open-air dining atmosphere.
Simplifies Cooking – If you worry about having too many cooks in the kitchen, an outdoor option can give you the space you need to accommodate more helping hands. People can mix drinks, prepare food, grill, and clean up simultaneously. You can also have a wine cooler, ice maker, and refrigerator in your outdoor kitchen to put everything you need within easy reach.
Saves on Utility Costs – During the summer months, your air conditioner already works hard to keep your indoor living spaces cool and comfortable. When you run your stove and oven, the demand for your AC increases and costs you more each month. Preparing your food in an outdoor kitchen space relieves your air conditioner of that extra work.
Excellent Alternative to Eating Out – Going to restaurants for meals can be expensive. If you need an entertaining mealtime without spending your hard-earned money, you can cook in your outdoor kitchen for special occasions, weekend get-togethers, and any other time.
How Do I Maintain My Outdoor Kitchen?
Taking care of outdoor living space doesn't have to consume your weekends. If you keep a few key points in mind from our outdoor kitchen builders, you can easily manage cleaning and maintaining yours. For instance, remember a grill does not clean itself, so keep the grill top clean and check its burners, valves, hoses, and other components routinely. Appliances built for outdoor kitchens tend to be durable and resistant to rust and corrosion, but you still need to use cutting boards and keep hot pots and pans off the surfaces. If you have an outdoor fireplace, keep it free of debris, and put a cover on its chimney to protect it from debris and water damage. Be sure you wipe down your countertops to prevent staining. Finally, keep your outdoor furniture out of the rain by bringing it indoors, and clean it with a mild, all-purpose cleaner.
Contact Us for Service in Aurora & Denver, CO
Blue Sky Hardscapes & Irrigation is ready to consult with you on an outdoor kitchen design and installation at your home. Contact us today to start the process with one of our team members. We carry out each step with your needs, preference, and budget at the heart of your project, whether you envision a simple outdoor kitchen or one with more extravagant features for family and guests to enjoy.
Trust Our Hardscape & Irrigation Experts