Skip to Content
Benefits of Driveway Pavers
Add Appeal and Functionality With Driveway Pavers
Your home's driveway isn't just a functional feature – it's also an opportunity to add a stylish accent to the exterior of your house. Although driveways can be made from a variety of materials, pavers provide some of the most stylish and attractive looks. Interlocking pavers are one of the most popular styles of driveway paver, but at Blue Sky Hardscapes & Irrigation, we can install a wide variety of pavers: brick, concrete, cobblestone, stamped concrete, and more. Pavers create a distinctive, appealing look, and installing them generally takes less time than having concrete poured since it doesn't involve extra time for drying.
Whether you're looking for driveway pavers ideas or already have a design in mind, we can help you create the look you want. Contact Blue Sky Hardscapes & Irrigation today for more information, or to request a free estimate.
Blue Sky Hardscapes & Irrigation's Driveway Pavers Service
Brick Driveway Pavers
Concrete Driveway Pavers
Driveway Stone Pavers
Cobblestone Pavers Driveway
Gravel Driveway Pavers
Asphalt Driveway Pavers
Interlocking Driveway Pavers
Customizable Pavers
Stamped Concrete
What Are Your Goals for Your Paver Driveway?
Before you start a paver driveway project, it's important to consider the reasons why you want a new surface for your driveway. Is it strictly because you'd like to increase your curb appeal, or are there practical and functional concerns that need to be addressed? To get the best result from your pavers, you'll want to think about the goals you have before you begin installing a paver driveway.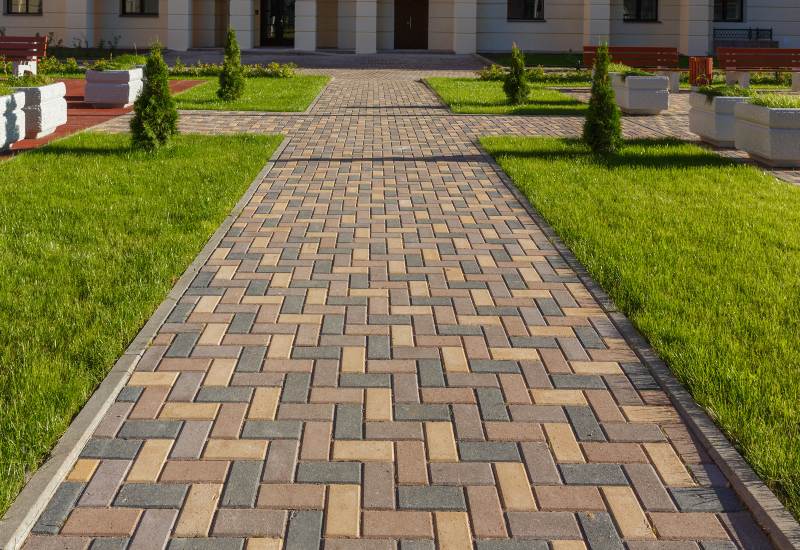 Homes that are experiencing problems with flooding, heavy rain, snow, or ice may find a paver driveway especially helpful. For places with heavy rain and/or flooding, permeable driveway pavers allow water to drain into the soil, where it can be absorbed instead of pooling and running off into the street. In areas that have heavy snow or ice, a heating system can be installed under pavers that will leave your driveway free of accumulated snow or ice. The melted water is absorbed into the soil, just as with rain.
For expert help with driveway pavers, stamped concrete, and other hardscape features for your home in or near Denver, Colorado, contact Blue Sky Hardscapes & Irrigation. We're committed to providing quality products, superior workmanship, and friendly customer service.
Pros and Cons of a Paver Driveway
Pros
Concrete – Widely available in a variety of styles and sizes, concrete pavers are the most common type of paver and are easily installed. Concrete is typically a sturdy material with a long life expectancy.
Interlocking – These pavers can be used to create all types of patterns to add a customized touch to your driveway. Interlocking permeable concrete pavers provide drainage that prevents standing water.
Brick – A driveway with brick pavers is an eye-catching touch for any home. Weathered brick remains attractive, while other paver styles don't age as well.
Gravel – Durable and inexpensive, gravel pavers are also a good choice where you need extra drainage as water can easily drain into the soil.
Cons
Concrete – Driveway pavers made from concrete can be expensive and may crack or fade in places that have extreme temperature fluctuations. Concrete pavers may need more maintenance than other types of pavers.
Interlocking – While they offer a stylish appearance, interlocking pavers tend to be costly and may be too expensive for homeowners with limited budgets.
Brick – The beauty of brick pavers comes at a fairly high cost, so homeowners who want brick pavers should have a generous budget. Brick also tends to wear down quickly and regular maintenance is required to keep brick driveway pavers in good condition.
Gravel – This inexpensive material tends to have a less attractive appearance, and it can become uneven for a variety of reasons, including wet weather. More frequent maintenance is often required with gravel driveway pavers.
Building an Eco-Friendly Driveway With Pavers
When rain, snow, or ice can't be absorbed into the soil underneath a driveway, the resulting water runs off into the street and eventually drains into rivers, lakes, and streams. Unfortunately, that runoff gathers debris and pollution on its way to the nearest body of water. Driveway pavers offer an eco-friendly solution since they allow water to drain down and be absorbed, unlike a driveway covered by a slab of concrete. Paver driveways can play an important role in reducing water pollution.
Contact Us Today
Are you considering giving your driveway a facelift with pavers? At Blue Sky Hardscapes & Irrigation in Aurora & Denver, our team of experienced professionals can transform your driveway into a lovely feature that adds value to your home. Contact us today for more information.
Trust Our Hardscape & Irrigation Experts