Skip to Content
High-Quality Driveway Pavers
Driveway Pavers Available in Denver & Aurora, CO
Driveway pavers are blocks or slabs that interlock or can be connected to create a flat, stable surface for a driveway. They are a great alternative for a poured concrete driveway as they are strong, durable, long-lasting, and cost-effective. With various styles available, Blue Sky Hardscapes & Irrigation can utilize driveway pavers to create your ideal driveway in Denver, CO.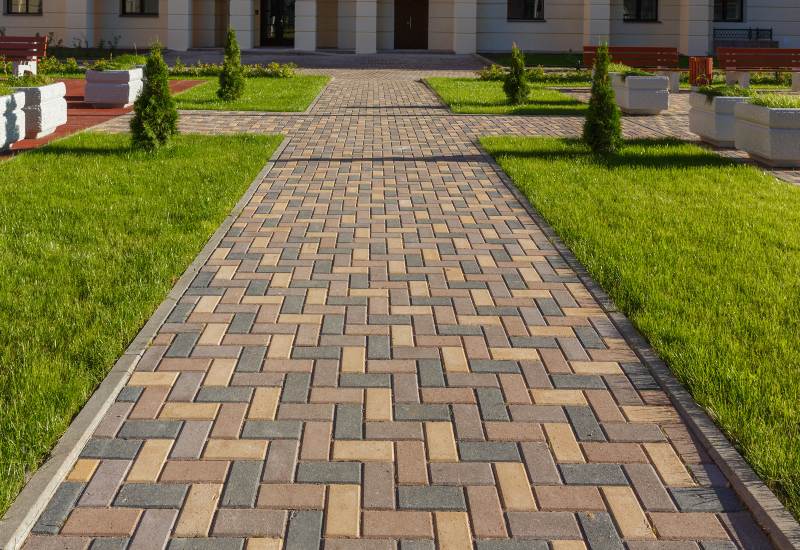 Driveway Pavers: A Great Alternative to Concrete
While concrete is the most traditional material used to create a driveway, cobblestone, brick, or concrete driveway pavers can be a terrific alternative. Driveway pavers offer more options in size, style, and color. They can be connected to form custom patterns and accommodate unique project goals. Concrete driveway pavers and brick pavers for driveways are also very strong and durable. They can withstand extreme weather elements, including repeated freezing and thawing. Cobblestone pavers for driveways offer durability and a unique aesthetic.
How Long Will My New Paver Driveway Last?
The great thing about a paver driveway is that it is made of long-lasting pavers installed to last with minimal maintenance. On average, a paver driveway that is well cared for can last between 25 and 50 years. This significantly outlives asphalt, which has about a 10-year life expectancy before repairs or replacement is needed. The longevity of paver driveways makes this choice a very cost-effective investment.
The Benefits of Driveway Pavers
When you choose to have concrete or brick driveway pavers installed, you can expect to experience a variety of benefits, including:
Customization – Paver driveways are considered custom projects that can be developed as one-of-a-kind additions to any residential property. Unlike concrete's standard look and feel, driveway pavers can be installed as a unique addition.
Complementary Colors – Driveway pavers are available in a wide array of colors. This ensures that your new driveway will complement existing landscaping and hardscaping aesthetics.
Easy Repairs – Since pavers are individual blocks linked together, if one cracks or gets damaged, replacing it with a new, identical paver is quick and easy. This also makes repairs inexpensive.
Durability – Driveway pavers are stronger than concrete and asphalt and can shift slightly with temperature changes instead of cracking. They also provide great traction for walking and driving throughout the seasons.
Low Maintenance – Once a paver driveway is sealed, it requires minimal maintenance. Sweeping and rinsing with water are all that's needed to keep a paver driveway in good shape.
Quick Installation – Driveway pavers can be professionally installed in days without much prep or curing time. This is great for projects with tight timelines.
Services Available From Blue Sky Hardscapes & Irrigation
In addition to selling and installing driveway pavers, Blue Sky Hardscapes & Irrigation offers a comprehensive suite of landscaping services in and around Denver, CO, including designing and installing:
Request a Free Estimate Today!
Blue Sky Hardscapes & Irrigation provides free quotes for driveway paver installation projects. Our team can help you decide on the right style of driveway paver, as well as the shape and length of your driveway. From there, our experienced professionals can install your new driveway quickly and cost-effectively. Contact us today for a free estimate!
Trust Our Hardscape & Irrigation Experts