Skip to Content
Pavers in Aurora & Denver, CO
Your Go-To Designing & Installing Pavers
Blue Sky Hardscapes & Irrigation provides paving services to homeowners in Aurora and Denver, CO. Pavers serve many purposes. Our expert team is here to help you with all of them. We provide exceptional paver installation services to help homeowners enhance their driveways, walkways, patios, landscaping, and more. For more than 25 years, we have been perfecting our craft, specializing in all things hardscaping and landscaping. As a result, we can install pavers all over your property to beautify your residence, protect your home, and provide style without excessive maintenance.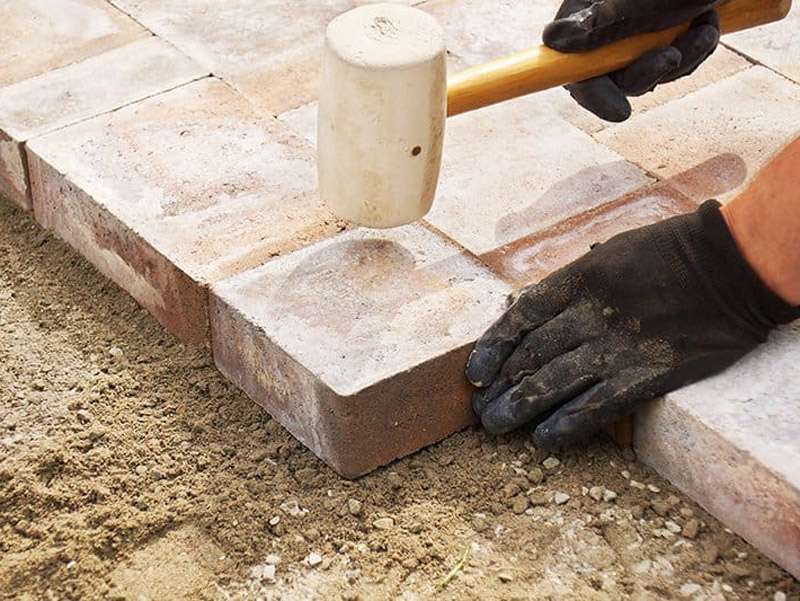 What Are Pavers?
Pavers comprise various materials that serve as exterior flooring for patios, walkways, driveways, and more. Blue Sky Hardscapes & Irrigation provides pavers made from brick, concrete, tile, porcelain, and stone, among other resources. These options include a host of styles, shapes, and sizes. Homeowners rely on elegant pavers to heighten the appeal of their property. We can perform a concrete paver installation for a patio in your backyard that may serve as the setting for a neighborhood get-together with the Rocky Mountain sunset as its backdrop. We can also incorporate pavers into hardscape features such as sitting walls, fire pit installation, outdoor kitchens, steps, driveways, and more.
The Types of Pavers
At Blue Sky Hardscapes & Irrigation, we provide pavers made from brick, concrete, tile, porcelain, and natural stone. The most popular types of pavers are brick, concrete, and natural stone. Below, we've gone into further detail about each of the paver types we sell to Aurora and Denver, CO homeowners:
Brick Pavers – Typically, brick pavers are actually clay or concrete and aggregate dyed to look like brick. This is a strong and stain-resistant type of paver.
Concrete Pavers – This strong and durable paver type comes in various colors and styles with interlocking patterns. To retain its color, it must go through a sealing process.
Tile Pavers – This paver is an excellent choice for any patio area. It is durable, easy to maintain, and immensely stable. There are also numerous colors and styles to choose from.
Porcelain Pavers – Porcelain pavers offer dimension, elegance, and sophistication. These pavers create visually-stimulating spaces that harmonize with the surrounding environment.
Natural Stone Pavers – The pavers are not ideal for high-traffic areas. Still, they are less expensive than brick and concrete pavers. They are absorbent and seldom need cleaning.
The Benefits of Hiring Pavers
Pavers provide homeowners with a plethora of benefits. Paver installation is one of the easiest ways to enliven your home's exterior. Pavers' versatility and style are evident with every unique application. Pavers can do the trick, whether you want to make your fire pit more intimate, modernize your walkway, or complement the plants atop your retaining wall. They present an abundance of advantages compared to other hardscaping or landscaping options. The benefits of pavers include:
Customization
Blue Sky Hardscapes & Irrigation has been customizing paver applications for more than a quarter-century, so we can create one that fits your style and budget.
Durability
Our high-quality materials and expert paver installation techniques ensure long-lasting results.
Easy Replacement
If one of your pavers is damaged, we can easily replace it without breaking the bank.
Increased Home Value
Additional exterior features that utilize pavers, such as retaining walls and patios, will increase the value of your home.
Low Maintenance
In addition to pavers requiring minimal upkeep, their presence will significantly reduce your yard maintenance responsibilities.
Immediate Use
Following paver installation from our team of professionals, you can begin using your property's new features right away.
Customer Satisfaction Is Our Priority
Many companies claim to put customers first, but Blue Sky Hardscapes & Irrigation follows through on that promise. With more than 25 years of experience completing various types of hardscaping and landscaping projects, you can rest assured we know what we're doing. We can help you come up with solutions that will improve the appearance and function of your yard that you may not have otherwise considered. We are more than just craftspeople and builders. We are artists, and our team will consult with you to help you achieve the perfect look for your patio, walkways, driveway, and other elements. Establishing a rapport before beginning a project will help us create your vision. Our fully licensed and -insured team is ready to commence your home's enhancement as soon as you are.
Why Choose Blue Sky Hardscapes & Irrigation?
Whether you need brick pavers, walkway pavers, fire pit pavers, or a different kind of paver, we've got you covered. The experts at Blue Sky Hardscapes & Irrigation provide reliable, high-quality results to homeowners throughout Aurora and Denver, CO. Our professional team boasts more than 25 years of experience and is well-equipped to handle any paving project. Our friendly customer service team is fully committed to the satisfaction of our valued customers. Not only are we fully insured for your peace of mind, but we have the training and tools to complete your paving project quickly and efficiently while ensuring all your specifications are met or exceeded.
Trust Our Hardscape & Irrigation Experts