Skip to Content
Outdoor Lighting in Aurora & Denver, CO
Once you have completed your landscaping and hardscaping, the next step is to install quality landscape lighting. Landscape lighting not only improves safety, but it also adds ambience, highlights elements of your landscape design, and extends your living space outside. While you can find and install your own landscape lighting, hiring a professional for landscape lighting design and installation ensures the job is done correctly with attention to detail, quality, practicality, and comfort.
At Blue Sky Hardscapes & Irrigation, we offer professional landscape lighting design and installation to enhance the beauty and security of your new landscaping and hardscaping designs. If you want to enjoy the beauty of your yard at night as well as during the day, just call us today.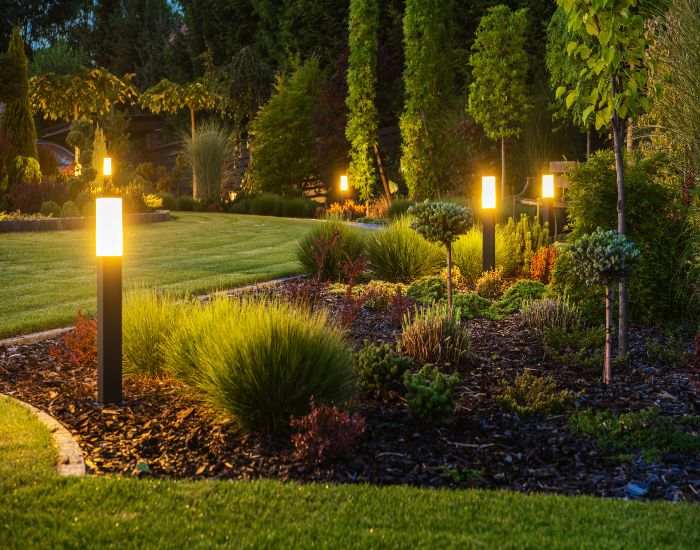 The Importance of Landscape Lighting Installation
Many people focus on landscaping and hardscaping as the key elements of their yard or outdoor living space, but landscape lighting plays a really important role as well. It might not be until you see landscape lighting at work that you realize how crucial it is in creating a vibrant, warm, inviting, and comforting ambience throughout your yard.
Without landscape lighting, your yard is a flat, dark space at night. But once you install landscape lighting that is carefully planned and designed to enhance your landscaping and hardscaping features, it creates an entirely new experience. You can now enjoy your outdoor living space at night, in the warm, inviting glow of lanterns, solar landscape lighting, footpath lighting, LED landscape lighting, or novelty landscape lighting. Your landscape lighting has transformed your yard into a magical, romantic, relaxing paradise.
Benefits of Professional Landscape Lighting Design
While you can find and install your own landscape lighting, hiring a professional for landscape lighting design will take your landscape lighting to the next level. A professional knows exactly what to highlight and what to leave in shadow in order to create a beautiful, functional outdoor living space.
The right landscape lighting can make a space seem larger, and also elevates the natural beauty of your landscaping so that you, your family, and your guests get a spotlight on everything that makes your landscaping unique and remarkable. Professional landscape lighting design also has other benefits:
Increases comfort and security
Enhances safety
Elevates the ambience
Increases the value of your home
Allows you to use your yard at night
Extends your outdoor living space
Deters prowlers and animals
Types of Landscape Lighting
A professional landscape lighting designer with experience in different types of landscape lighting can help you determine exactly what type of lighting you need, and where. There are so many different possibilities available that it can seem overwhelming to try to figure it out on your own. Here's a quick look at your possibilities for landscape lighting:
Spotlights & Downlights – Versatile landscape lighting fixtures that can support a wide variety of bulb types, beam widths, and wattages. Can be used to draw attention to a key area of your landscape design, or to enhance security and safety by pointing out obstacles or deterring prowlers. Often used to uplight trees or to highlight, silhouette, shadow, or graze key elements of your landscape and hardscape.
Floodlights – Primarily used to enhance security, deter prowlers, and keep animals away from your yard. These lights can be solar powered, motion-sensored, or on a timer. They have a much higher wattage and wider angle than spotlights, and typically aren't turned on all the time.
Pathway & Area Lighting – Used to enhance comfort, safety, and security in walkways and areas with obstacles that could present a safety issue. Can be used along pathways, around gazebos, spas and pools, and around patios. Can also highlight other areas of the home or landscape design, like flower beds.
Wall Wash Lights – A type of flood light that offers even, wide illumination across a large surface.
Well Lights – Designed so that the majority of the landscape lighting fixture is actually below ground. They are used in areas where there will be foot traffic or lawn equipment passing over and you don't want to create an obstruction. This could include lawns, wide patios, and driveway pavers.
Deck Lights – Deck lights are designed to attach to posts, columns, or railings to supply illumination on stairs or the sides of structures.
Step Lights – Used on stairways to enhance safety and security.
Hardscaping Lights – Used to highlight and draw attention to key features of your hardscape design, like patios, retaining walls, pathways, and water features. Can also be used in outdoor kitchens, fireplaces, and fire pits.
Solar Lighting – Solar lighting collects solar energy during the day so it can turn on at night. It can either be connected to your other landscape lighting wiring so it has backup power, or can be used in areas where it isn't necessary for safety reasons, but just adds extra ambience in out of reach areas where wired lighting is impractical.
Motion-Sensor Lighting – Increases comfort, security, and safety by turning on when motion is detected. Saves power and energy by only providing bright illumination when a presence is detected. Sensitivity levels, brightness, and duration can be adjusted as needed.
Timed Landscape Lighting – Only turns on and off according to a set schedule, so you can control your landscape lighting remotely when you're out of town or away from home.
Solar Landscape Lighting
Solar landscape lighting is becoming increasingly popular as people become more conscious of eco-friendly power options. While solar lighting is less expensive now than it has been in the past, it is typically more expensive than wired landscape lighting options. However, if you want the convenience of wire-free landscape lighting, and a lower electric bill than you would have with traditional landscape lighting, then solar landscape lighting might be a good fit.
Solar landscape lighting can also be combined with traditional, wired landscape lighting to allow you to install lighting in areas that are far out of reach of the rest of your wiring system. For instance, you could choose to use solar landscape lighting on the edges of your yard, in trees, around your pool, or in a gazebo.
Landscape Lighting Maintenance & Repair
You can extend the life of your landscape lighting system and maintain its key components by performing routine cleaning, inspection, and maintenance. You should keep fixtures free from leaves and debris to prevent overheating. You should always replace burned out bulbs right away so they won't cause voltage overloads in other parts of the circuit.
Landscape lighting fixtures that are made from brass, copper, or stainless steel can last a lifetime with proper care. A typical warranty period for landscape lighting fixtures and transformers is 1-10 years.
At Blue Sky Hardscapes & Irrigation, we offer routine inspections and maintenance services for all landscape lighting systems we install. We want to preserve the life of your system so you can enjoy it for many years to come!
Why Choose Us for Your Landscape Lighting Services?
At Blue Sky Hardscapes & Irrigation, we have decades of experience in landscaping and hardscaping services. We can offer professional landscape lighting design that will enhance the beauty, safety, and security of your yard so you can enjoy it night and day. We offer an extensive array of different types of landscape lighting elements, including solar landscape lighting, LED landscape lighting, motion-sensor security lighting, and hardscape lighting. We work hard so that each job is completed on time, and we are always honest and transparent about the cost of landscape lighting projects so you know exactly what to expect.
Our Other Services
Along with professional landscape lighting design and installation, we also offer comprehensive landscaping and hardscaping services, lawn maintenance services, and more. We pride ourselves on our attention to detail, transparency, and outstanding customer service. Click on the links below to learn more about our services.
Call Us for Professional Landscape Lighting in Aurora, CO
Are you ready to discuss professional landscape lighting design in Aurora, CO with one of our experts at Blue Sky Hardscapes & Irrigation? Our professional landscaping, hardscaping, and landscape lighting services will create the outdoor living space of your dreams that you can use to relax, spend time with friends and family, and host parties and events.
Our team has more than 25 years of experience working directly with the Aurora, CO community to make their landscaping dreams come true, and we pride ourselves on providing quality workmanship at affordable prices. We conduct our business with integrity and transparency, and we will always be up front about what we can achieve, how long it will take, and what it will cost. To learn more, just call us today or contact us online.
Trust Our Hardscape & Irrigation Experts