Skip to Content
Enhance Your Denver Home With Stone Pavers
Stone Pavers Make a Beautiful Addition to Any Home
Little details around your home can make the difference between ordinary or outstanding. Stone pavers are one of those details that can set your home apart. Used in walkways, patios, and other flat areas, stone pavers are an attractive natural material that comes in a tremendous range of sizes, styles, and colors. Pavers made from stone often retain part of their natural appearance with irregular sizes and uneven edges, unlike pavers made from man-made materials.
At Blue Sky Hardscapes & Irrigation, our team has extensive experience with installing stone pavers, as well as other types of pavers like concrete, brick, and gravel. Contact us today to request a free estimate.
Different Kinds of Stone Pavers
Almost any type of rock can be made into a stone paver, but they're most commonly made with: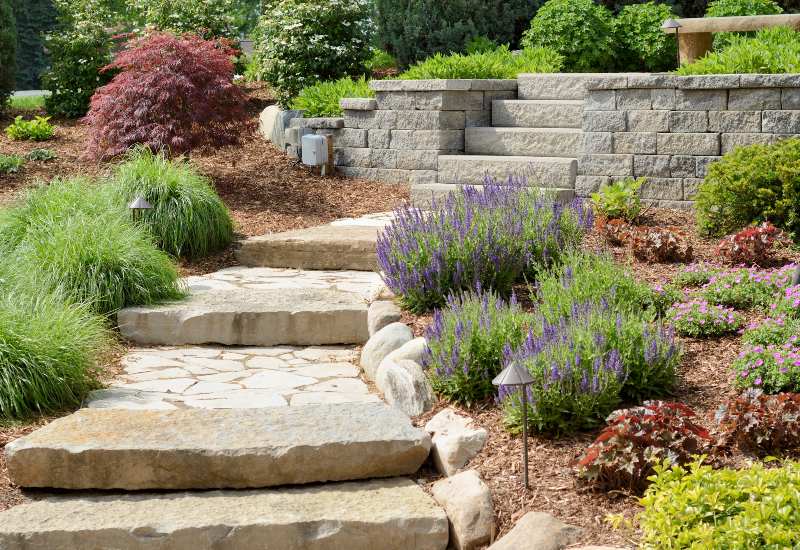 Bluestone – Available from U.S. sources, bluestone is a blue-gray-colored stone that can be used to create walkways, pool decks, patios, and other flat surfaces. Two types of bluestone are quarried in the United States: Pennsylvania bluestone, which is a type of sandstone, and Shenandoah bluestone, which is limestone.
Cobblestone – True cobblestone is made from natural stone, generally granite, although other types of stone like basalt and limestone are also used in cobblestones. In recent years, it's become increasingly common to see concrete formed into the shape of traditional cobblestones, but those products are actually concrete pavers, not cobblestones.
Travertine – Made from limestone, travertine stone pavers add an elegant, classic feel to any surface. Not to be confused with travertine tile, which can be used inside or outside, travertine pavers are thicker than tile and are used in exterior landscapes for things like walkways, stairs, and patios. Travertine comes in a range of colors, is easy to maintain and durable, and provides a slip-resistant surface when wet.
Why Use Stone Pavers?
What's the benefit of using stone pavers, when there are so many alternatives? Many people find they're not satisfied with imitation stone in the form of concrete stone pavers, brick stone pavers, or other materials. Installing authentic stone pavers gives you the look, feel durability, and strength of actual rock. Stone pavers are an exceptionally attractive material and their natural appearance is difficult to duplicate.
If you're interested in installing stone pavers at your home, contact Blue Sky Hardscapes & Irrigation for more information. We'll work with you to design an impressive yard that will wow your friends and family.
Stone Pavers FAQ
Q. How long do stone pavers last?
A. When installed and cared for correctly, stone pavers can last almost indefinitely. Typically, stone pavers need some type of sealing, but don't generally need extensive upkeep to last for a long time.
Q. Are stone pavers better than concrete slabs?
A. There are pros and cons to each type of material. Concrete slabs are a quick and easy solution for patios, walkways, and other flat surfaces, but they show wear and tear quickly, can add to waste-water runoff, and don't have the visual appeal of stone pavers. When you use stone pavers, the cost is higher, but you get a longer-lasting material that stays attractive with less effort.
Q. Can I install stone pavers as a DIY project?
A. Proper installation is the key to making sure a surface made with stone pavers looks level and doesn't have any slippage or lose pavers. Working with an experienced company will usually give you a much better result than trying to figure it out on your own.
Q. Can I use stone pavers in my driveway?
A. Yes, stone pavers make an extremely durable surface for a driveway. Cobblestone is a common type of stone paver used in driveways.
Q. Will weeds grow between the pavers?
A. The best way to prevent weeds from sprouting in pavers is to make sure the pavers are installed correctly. Using special types of sand and fabric also helps stops the growth of weeds in pavers.
Other Services We Provide
At Blue Sky Hardscapes & Irrigation, we work with all types of pavers: stone, brick, concrete, gravel, and more. It's just one aspect of a home's exterior hardscape that we can help with. We also install fire pits, patios, retaining walls, irrigation, artificial grass, outdoor kitchens, and other exterior features.
Contact Us Today
Residents in Aurora & Denver can rely on Blue Sky Hardscapes & Irrigation for unparalleled work on the hardscapes and landscapes around their homes. We have the skill and know-how to transform your yard into a place the entire neighborhood will admire. Contact us today for details.
Trust Our Hardscape & Irrigation Experts