Skip to Content
Stone Pavers in Denver & Aurora, CO
Stone Pavers From Blue Sky Hardscapes & Irrigation
Stone pavers can add strength and luxury to any landscaping or driveway project. The Blue Sky Hardscapes & Irrigation team has years of experience working with and installing stone pavers in Denver, CO. We can help determine if they are the right choice for your upcoming project and provide an estimate to have them installed to your liking.
Common Stone Paver Applications
Stone pavers can be used for a variety of outdoor projects. They can help create a durable and aesthetically pleasing outdoor living space for relaxing or entertaining. Some of the most common stone paver applications include:
Driveways – Stone driveway pavers can be used to create custom driveways that blend perfectly with existing landscaping or take a new outdoor project to the next level.
Walkways – No matter the size of the walkway, stone pavers can be a great choice for construction. These pavers can add dimension, definition, and depth to any outdoor environment. A stone pavers walkway adds extra charm to landscaping.
Patios – As an alternative to wood or concrete, stone pavers are a great choice for patios. We can create a custom patio in your desired color, size, and shape.
Pool Decks – Stone pavers around a pool are great for pool decks because they create a non-slick surface that increases the safety around your pool while enhancing the area's visual appeal.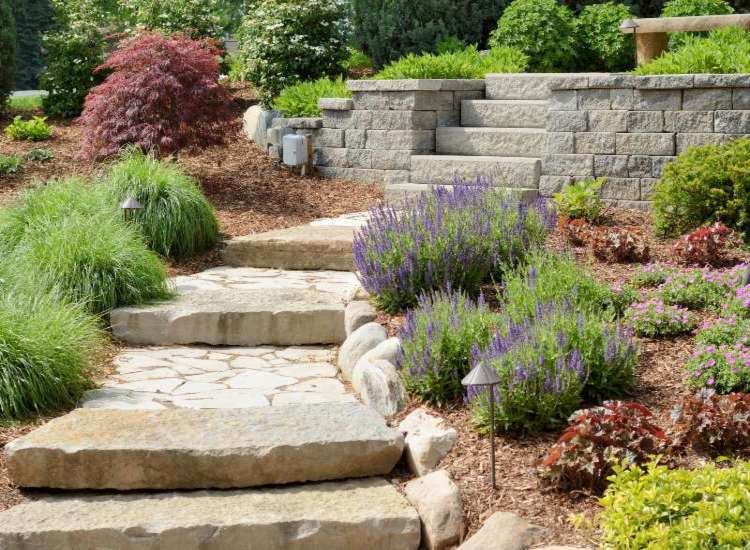 Popular Types of Stone Pavers
Blue Sky Hardscapes & Irrigation sells and installs many types of stone pavers. The most popular options include:
Granite, a light-colored stone with large grain patterns
Limestone, a white, off-white, or gray stone with smaller grain patterns
Bluestone, a blue, green, brown, red, pink, or green stone with varying grain sizes
Cobblestone, a speckled gray and white stone
Travertine, a light beige, marble-like stone
Six Significant Benefits of Stone Pavers
If you're considering using stone pavers for an upcoming landscaping project, consider the benefits that come along with them. Here are the notable benefits of stone pavers:
Strength – A stone paver driveway is much stronger than concrete. Stone pavers are installed surrounded by sand, making the driveway more flexible and creating a bond that responds well to weather elements. Instead of cracking, this driveway has a give to it that prevents damage.
Easy to Repair – A concrete driveway crack can be a big project to repair. This type of repair also often results in a mismatched patch. If an individual stone paver cracks or gets damaged, it can be replaced.
More Stain Resistant – If oil stains concrete, there's often no way to get rid of it. If oil stains a stone paver, the paver can be flipped over or easily replaced.
Better Drainage – Instead of one continuous flat surface, stone paver driveways have enough space between pavers for rainwater to drain effectively.
Safety – Stone pavers around a pool are slip-resistant, making them much safer for residents and guests.
Quick Installation – Stone paver driveways can be installed quickly and used immediately. They do not require intensive preparation before installation or time to cure after the installation has been completed.
Blue Sky Hardscapes & Irrigation Landscaping Services
The team at Blue Sky Hardscapes & Irrigation would love to help you with your upcoming stone pavers project. In addition, we offer a wide variety of related services in Denver, CO, and the surrounding areas, including designing and installing:
Request a Free Stone Paver Project Estimate
Blue Sky Hardscapes & Irrigation can help you with any stone paver project. Our team serves residential properties in and around Denver, CO. With years of experience and a passion for outdoor spaces, we're ready to get started! Contact our team today to request a free estimate!
Trust Our Hardscape & Irrigation Experts