Skip to Content
Concrete Pavers for Residential Landscaping in Denver, CO
What Are Concrete Pavers?
Concrete pavers, also referred to as paving stones, are an outdoor flooring material. Similar to tiles used inside a home, these pavers are made of concrete and manufactured in various sizes, shapes, and colors for use outside. Concrete pavers are used for all types of landscaping and hardscaping projects, including flooring for driveways, walkways, and patios. The Blue Sky Hardscapes & Irrigation team offers concrete pavers of different styles, shapes, and sizes. We help homeowners in Denver, CO, choose the right pavers and can complete the installation.
Popular Concrete Paver Applications
Concrete pavers are popular for many outdoor living applications in residential areas. Our team can help you with the following concrete paver services:
Walkways – Concrete pavers can create a walkway in high-traffic areas. The sturdy concrete pavers can produce a steady, level path that is much safer than loose stone or grass.
Edging – Instead of using concrete pavers for an entire walkway or driveway, these pavers can be used as edging. The pavers are placed along the outside of the paths to create a distinct edge.
Patios – Patio concrete pavers can be used to create a patio of any size or shape. Due to the extensive shapes and sizes of concrete pavers for patios, they are an excellent choice for creating a custom patio.
Entrances – Concrete pavers are also often used to enhance entranceways. Pavers can create a designated area outside a door where people frequently stand or walk.
Near Fountains – When adding a water feature to landscaping, concrete pavers are often used to create a solid foundation underneath or around the fountain.
Outdoor Living Spaces – Concrete pavers can be installed as the flooring for an outdoor space, like a kitchen.
Pool Decks – Concrete patio pavers are an alternative to traditional wood pool decking. These pavers are more durable and long lasting, withstanding weather better than wood materials.
Benefits of Concrete Pavers
Concrete pavers are a great choice for outdoor projects. Here are a few benefits associated with this building material:
Low Cost – Concrete pavers typically cost much less than comparable building materials. They are manufactured quickly and in mass quantities, making them widely available and reasonably priced.
Versatile – Concrete pavers are incredibly versatile and can be used for many projects, including pathways, pool decks, outdoor living spaces, driveways, entranceways, and more.
Many Style Options – Concrete pavers come in all different shapes, sizes, and colors. While some look like stone or clay, others are designed in lighter colors to stay cool during hot months.
Durable – Concrete pavers are strong and durable, able to withstand high traffic and extreme weather.
Low Maintenance – Concrete pavers are a low-maintenance landscaping building material. These pavers can be maintained by simply sweeping them off and occasionally rinsing them with water.
Custom Potential – Concrete pavers can be manipulated to produce custom projects that fit perfectly into a specific area or align with a pre-determined aesthetic.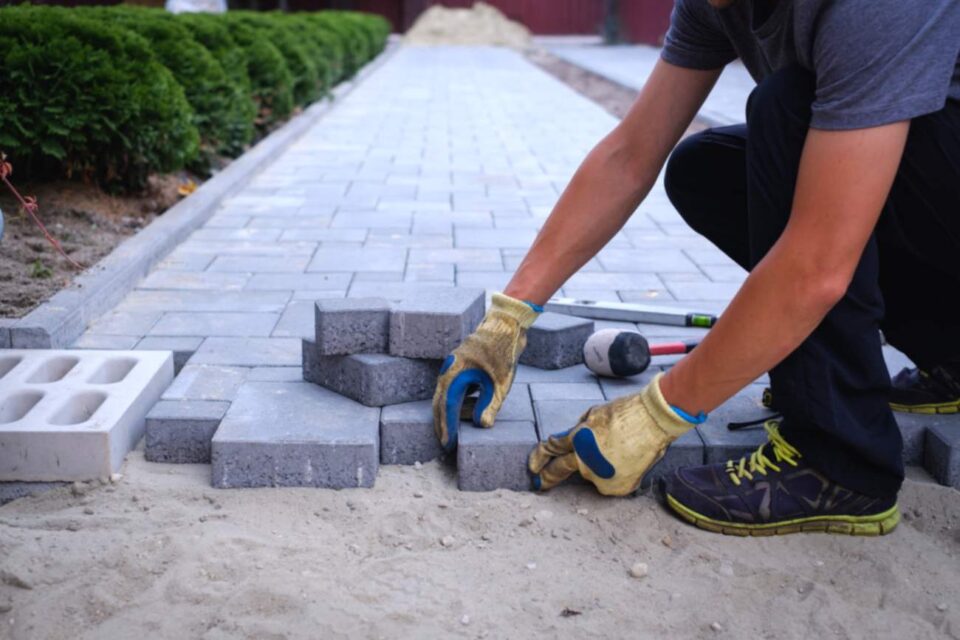 Concrete Paver Shapes & Sizes
Concrete pavers are manufactured in different shapes, sizes, and colors. There are endless options for homeowners looking to have concrete pavers installed as part of their outdoor space. The Blue Sky Hardscapes & Irrigation team can provide more information about available concrete pavers and the designs that can be created.
Blue Sky Hardscapes & Irrigation's Additional Offerings
In addition to selling and installing concrete pavers, Blue Sky Hardscapes & Irrigation provides a full suite of services, including designing and installing:
Contact Blue Sky Hardscapes & Irrigation
Blue Sky Hardscapes & Irrigation is here to help with all your concrete paver needs. Our team offers a wide selection for purchase and can also help with installation for various outdoor projects. Contact our team today to learn more about the potential of concrete pavers and how they can transform your property!
Trust Our Hardscape & Irrigation Experts