Skip to Content
Stamped Concrete: Stylish and Affordable
Add Appeal to Your Home With Stamped Concrete
Stamped concrete, also called decorative concrete, provides ornamental appeal in areas that might otherwise be bland and forgettable. While plain concrete is fine functionally, and aesthetically it leaves something to be desired. Stamped concrete can mimic the look of tile, slate, or stone, or it can be a purely decorative texture. The team at Blue Sky Hardscapes and Irrigation has experience with stamped concrete, stenciled concrete, and colored concrete. For a professionally stamped concrete patio, stamped concrete driveway, or stamped concrete walkway, contact us today for a free estimate.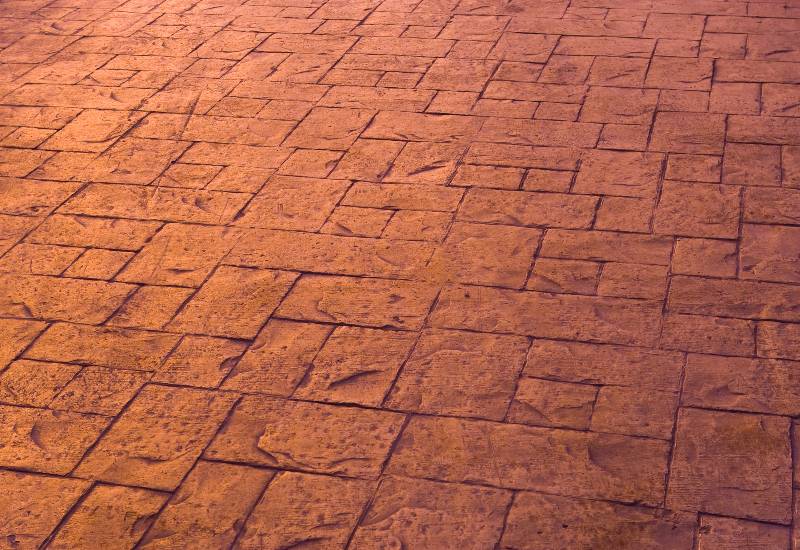 How Is Stamped Concrete Installed?
To create stamped concrete, tradespeople apply a pattern or texture to wet concrete to create a design. Concrete stamping can create the appearance of cobblestone, flagstone, brick, or other materials. The process is typically done on flat surfaces like driveways, sidewalks, walkways, patios, and pool decks.
Budget-Friendly Stamped Concrete Ideas
Stamp Borders: If you have a large expanse of concrete, stamping a border can create visual interest without having to treat the entire area.
Minimize Added Color: Coloring concrete can significantly add to its cost. Although the color is often an integral part of stamped concrete, limiting its use will help cut down on expenses.
Stamp Small, Interesting Shapes of Concrete: The design and textures of stamped concrete can create a really striking effect when used on smaller portions of concrete that have been formed into interesting shapes, especially when they include curves.
Saw Cutting and Texture: Using a saw cut or applying a texture skin to make a pattern are budget-friendly ways to elevate the look of stamped concrete.
Continue the Pattern: Instead of stamping one large area, continue a stamped pattern along walkways or steps so it ties various areas of your yard together.
Benefits of Stamped Concrete
One of the most often-cited benefits of stamped concrete is its cost effectiveness, but it also comes with several other positives, like minimal maintenance and lower labor costs to install. Stamped concrete is quite durable and holds up well in high-traffic areas. The decorative appearance of stamped concrete helps to boost the resale value of your home, but at a lower cost than stone or brick.
Not sure what will look best? At Blue Sky Hardscapes and Irrigation, we can help you with ideas for stamped concrete designs.  Our team of friendly experts can make some recommendations. Contact us today for more information.
What Makes Stamped Concrete Valuable?
Stamped concrete is more expensive than plain concrete, but there's no better way to achieve the look of expensive materials without large costs. With its long-lasting, easily maintained appearance, stamped concrete offers unbeatable value.
Other Services From Blue Sky Hardscapes & Irrigation
In addition to stamped concrete, we can help you with a range of hardscaping projects: fire pits, patios, pavers, irrigation, artificial grass, outdoor kitchens, and more. If you're about to tackle beautifying your yard, we can design and install a project that will exceed your expectations.
Contact Us Today
For high-quality hardscape and landscape services in Aurora & Denver, contact Blue Sky Hardscapes & Irrigation. We've been helping homeowners for decades, and our team has the expertise to transform any outside area into a place you'll never want to leave. Contact us today for more information.
Trust Our Hardscape & Irrigation Experts