Skip to Content
Building Retaining Walls in Aurora & Denver, CO
Blue Sky Hardscapes & Irrigation is adept at building retaining walls in Denver, CO, and the surrounding area. Retaining walls serve several purposes, including creating more usable land, managing water runoff, and providing more landscaping seating. Our team has been a mainstay in the region for more than 25 years, offering exceptional hardscaping, landscaping, irrigation, concrete services, and more. We recognize that installing a retaining wall is one of the best ways to improve your yard's look and function. Our team can build retaining walls on slopes, with blocks, and even with wood. Call us today to discuss what approach would be best for your yard.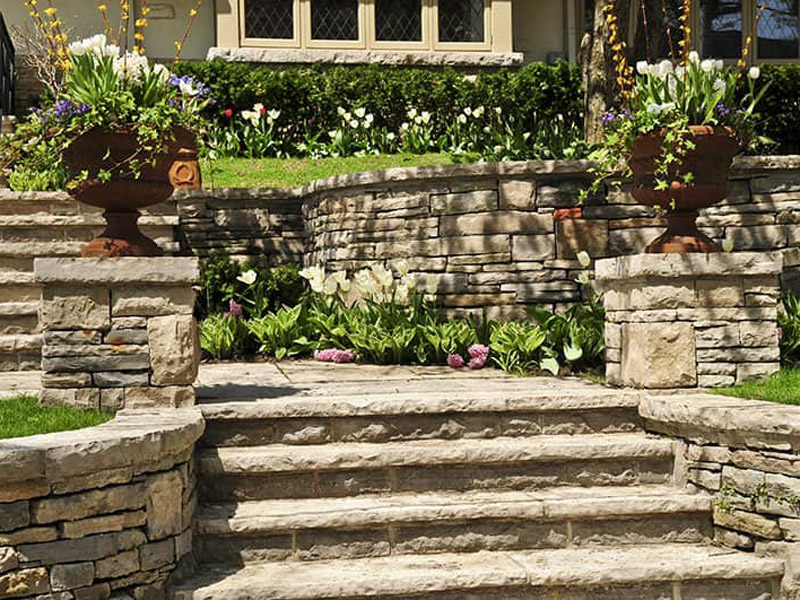 What Are Retaining Walls?
A retaining wall is a structure that supports and retains soil on your property. It is critical if your yard features a hillside or a slope because it can prevent erosions and provide a proper outlet for water runoff. In addition to retaining walls' practical uses, they can help beautify your landscape by creating terraces of usable land for gorgeous plants and flowers. Finally, they serve to protect your home's foundation if it is vulnerable to a sliding hill.
Our Team Can Build Various Types of Retaining Walls
Though they serve a practical function, it is important for retaining walls to match your home's aesthetic and personal style. A retaining wall in your front yard will be one of the first features that neighbors and passersby notice, so you want it to look good. Our team of professionals in Denver, CO will gladly discuss your various retaining wall options. They include:
Concrete Block
There is a wide range of sizes, shapes, and styles of concrete blocks we can use to build your retaining wall. Most people think of concrete as plain and gray, but we can outfit your retaining wall with elegant, colorful concrete blocks that complement your home and landscaping features.
Stone
Blue Sky Hardscapes & Irrigation has a large selection of natural stones that we can use to build your retaining wall. Choose from limestone, quartz, strip stone, fieldstone, or bluestone. We can provide examples of previous work we have completed to help you visualize how your retaining wall may look.
Pavers
We can also use pavers to build retaining walls in your yard. Our professionals have extensive expertise in paver installation for a variety of purposes, with retaining walls being among the most common. These versatile materials come in a variety of colors and sizes to fit your preferences.
There Are Many Structural Options for Your Retaining Wall
Depending on where you are placing your retaining wall and whether its purpose is mainly functional or aesthetic, you may have several structural options. The structure must withstand the pressure of the soil and rocks behind it regardless of its style or the slope of your yard. To build your retaining wall in Denver, CO, we can stack materials, create terraces, or design a solution that is overwhelmingly decorative. Call us for a consultation, and our experts will help you choose the best course of action.
Blue Sky Provides Unmatched Craftsmanship
Blue Sky Hardscapes & Irrigation is an industry leader in retaining wall construction. We have been serving homeowners in Colorado for more than a quarter-century. As a result, we have the ability to not only build the perfect retaining wall for your home, but can also help you conceptualize it before it becomes a reality. Many of our clients know they need a retaining wall to protect their home and yard but do not have a vision for what they want. Our team can share examples of projects we have completed in the past and discuss all the options available to you. We are fully licensed and insured, and we strive to ensure customer satisfaction during every job.
Contact Us Today to Discuss Your Next Retaining Wall
In the absence of retaining walls, the Rocky Mountain weather can cause your hills to erode, jeopardizing the appearance of your yard, and even the foundation of your home. For both protection and an enhanced look, Blue Sky Hardscapes & Irrigation builds retaining walls in Denver, CO, and beyond. Contact us today to discuss design options and construction plans for your next retaining wall.
Trust Our Hardscape & Irrigation Experts