Skip to Content
Outdoor Living Space Services in the Denver Area
The Best Outdoor Space Design Service Experts
Experience the perfect fusion of nature and comfort with Blue Sky Hardscapes & Irrigation's outdoor living space services in Denver, CO. Our dedicated team specializes in crafting captivating outdoor sanctuaries that provide an oasis of relaxation and entertainment right in your backyard. From elegant pergolas and luxurious lounging areas to custom-designed kitchens and fireplaces, we're committed to transforming your outdoor space into an extension of your home. Ready to redefine your outdoor lifestyle? Contact us today to schedule a consultation and embark on the journey of creating your dream outdoor living space.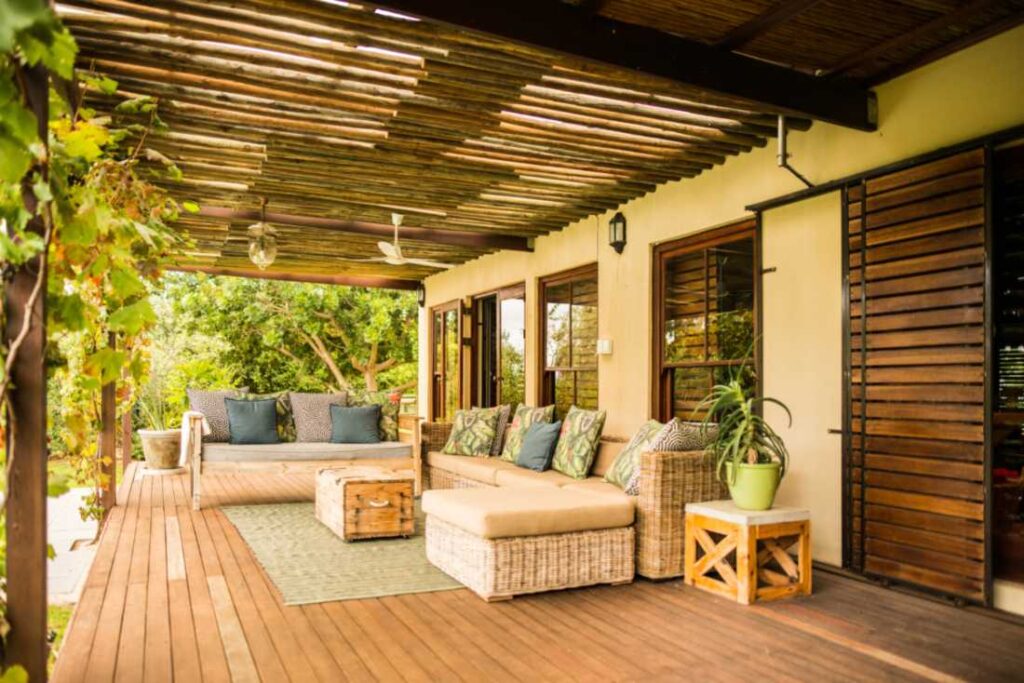 Utilize Plants & Greenery
Incorporating plants and greenery into your backyard outdoor living space ideas can transform them into lush and inviting environments. Choose a variety of native or well-adapted plants that thrive in your climate to minimize maintenance. Use plants strategically to create privacy, define areas, and add color and texture. Consider trees for shade, shrubs for structure, and a mix of perennials and annuals for seasonal interest. Container gardens and hanging baskets can also bring greenery to small spaces or patios. The natural beauty and fresh air plants provide can enhance your outdoor experience, creating a tranquil and refreshing atmosphere in your outdoor haven.
Stick With One Style
Maintaining a consistent style in your small outdoor living spaces can create cohesive and visually appealing lounging areas. Whether it's modern, rustic, Mediterranean, or any other design theme, sticking with one style ensures that all elements, from furniture and decor to landscaping, work harmoniously together. This unity can make your indoor outdoor living spaces feel more intentional and inviting, giving them a distinct character and enhancing the overall ambiance.
Consider Seasonal Needs
In the Denver area, considering seasonal needs is crucial when planning your outdoor space ideas. The region experiences distinct seasons, from hot summers to cold winters. Opt for furniture and materials that can withstand temperature extremes and moisture. In summer, provide shade with pergolas or umbrellas, while in winter, consider outdoor heaters or fire features to extend usability. Plant native species that thrive in the local climate, and be prepared to adapt your outdoor decor and layout as the seasons change. By addressing seasonal needs, your covered outdoor living spaces can remain functional and enjoyable year-round in Denver's diverse weather conditions.
Make a Comfortable Lounge Space
Creating a comfortable lounge space outside is all about maximizing relaxation and functionality. Start by selecting comfortable and weather-resistant furniture, such as plush seating and loungers with soft cushions. Add shade with umbrellas, pergolas, or outdoor curtains to shield from the sun. Incorporate side tables and perhaps an outdoor rug for added convenience and style. Accessorize with outdoor pillows and throws for a cozy touch. Greenery, such as potted plants or hanging baskets, can add a refreshing ambiance. Finally, consider outdoor lighting options to extend your lounge's usability into the evening. With the right elements, your outdoor lounge can become a tranquil haven for unwinding and enjoying the fresh air.
Our Services
Explore our comprehensive list of services designed to transform your small outdoor living spaces into functional and stunning retreats. From hardscaping and patios to landscaping and water features, we offer a wide range of solutions to enhance your property:
Contact Our Outdoor Design Experts
Elevate your outdoor lifestyle with Blue Sky Hardscapes & Irrigation's expert outdoor living space services. Our dedicated team specializes in crafting luxurious and functional outdoor sanctuaries tailored to your unique vision. Whether you envision a serene retreat, an entertainment haven, or a seamless extension of your home, we're here to turn your outdoor small space ideas into reality. Our dedicated team is committed to delivering quality and craftsmanship in every project, ensuring your outdoor vision becomes a reality. Contact us today to schedule a consultation and embark on the journey of creating your ideal outdoor living space with us.