Skip to Content
Outdoor Living Spaces Services in the Denver, CO Area
The Best Outdoor Patio Spaces
Experience the art of outdoor living with Blue Sky Hardscapes & Irrigation's exceptional outdoor living space ideas in Denver, CO. We specialize in creating inviting, functional, and aesthetically pleasing outdoor environments that become an extension of your home. Contact us today to schedule a consultation and let us transform your outdoor space into a haven of relaxation and entertainment.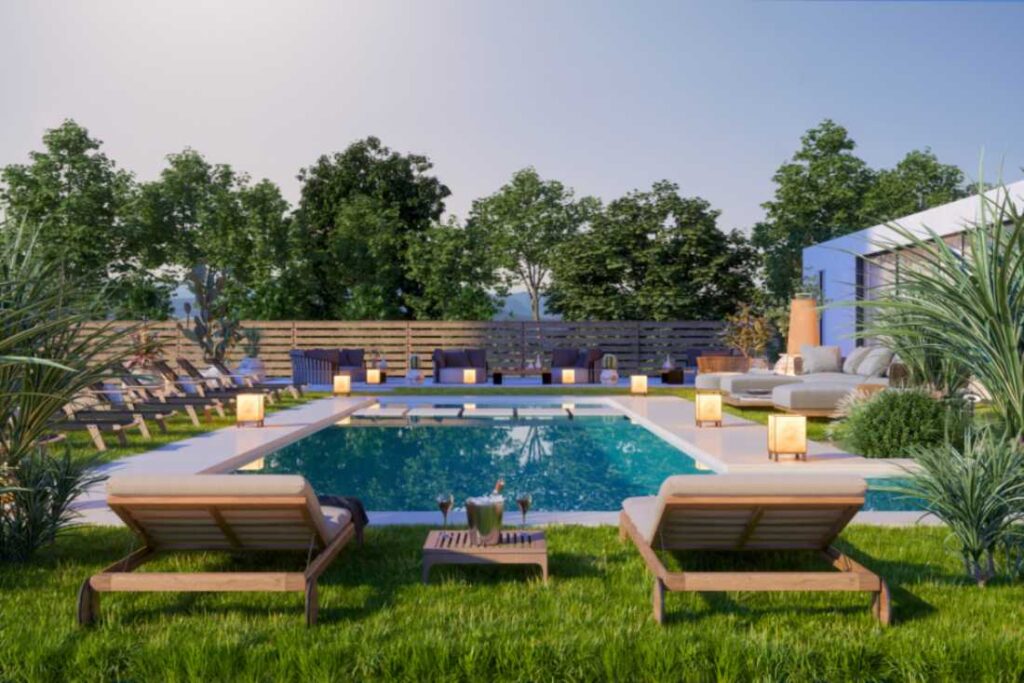 Types of Outdoor Rooms
Outdoor rooms are versatile spaces that extend your living area into the open air. They offer a variety of options for relaxation, entertainment, and enjoyment of the outdoors. Here are several types of outdoor rooms you can consider:
Patio – Patios are versatile outdoor rooms typically paved with materials like concrete, stone, or pavers. They can be used for dining, lounging, or as an extension of your living room.
Deck – Decks are elevated outdoor rooms often constructed from wood or composite materials. They provide a great platform for outdoor seating, dining, and even hot tubs.
Outdoor Kitchen – An outdoor kitchen is an extension of your indoor kitchen, complete with cooking appliances, countertops, and storage. It's perfect for hosting outdoor meals and gatherings.
Pergola or Gazebo – Covered outdoor living spaces provide shade and create a defined outdoor space. They're excellent for outdoor dining, relaxation, or as a centerpiece for your garden.
Sunroom or Screened Porch – These indoor outdoor living spaces offer protection from insects and the elements while still providing a view of your outdoor space. They're ideal for year-round use.
Poolside Cabana – A cabana by the pool offers shelter, changing facilities, and a comfortable spot to relax between swims.
Fire Pit or Fire Pit Area – Fire pits or fireplaces create cozy outdoor rooms for evening gatherings and warmth. They can be integrated into a patio or stand-alone.
Garden Retreat – A garden retreat is a tranquil outdoor space nestled among your plants and flowers. It's perfect for meditation, reading, or simply enjoying nature.
Play Area – Create an outdoor room for kids with play equipment, a sandbox, or other recreational features. It's a great way to encourage outdoor play.
Outdoor Theater – Set up an outdoor screen and seating area for movie nights under the stars as a fun way to enjoy films and sports events in the fresh air.
Work or Hobby Space – Designate an outdoor room for your hobbies or work, whether gardening, crafting, or painting.
Outdoor Bar – Create a bar area with a counter, seating, and storage for beverages and barware. It's perfect for hosting outdoor cocktail parties.
Yoga or Fitness Space – Dedicate a small outdoor space for yoga, exercise, or fitness activities, providing a peaceful outdoor environment for workouts.
Selecting Furniture for Your Outdoor Space
Selecting furniture for your luxury outdoor living spaces is a crucial aspect of creating a comfortable and inviting environment. Opt for durable materials like teak, aluminum, or resin wicker that can withstand outdoor conditions. Consider the size and layout of your space, ensuring that the furniture fits well and allows for easy movement. Cushions and upholstery should be made of weather-resistant fabrics, and accessories like umbrellas or outdoor rugs can add both style and functionality. Ultimately, choose pieces that match your style and the intended use of the space, whether it's for dining, lounging, or entertaining, to create a functional and aesthetically pleasing outdoor retreat.
Our Services
Explore our comprehensive list of services designed to transform your outdoor spaces into functional and stunning retreats. From hardscaping and patios to landscaping and water features, we offer a wide range of solutions to enhance your property:
Contact Us Today
Indulge in the epitome of outdoor luxury with Blue Sky Hardscapes & Irrigation's exquisite outdoor living space services. Our dedicated team is committed to delivering quality and craftsmanship in every project, ensuring your outdoor vision becomes a reality. We specialize in crafting bespoke outdoor sanctuaries that seamlessly blend comfort and style. Contact us to schedule a consultation and embark on the journey of creating your dream luxury outdoor living space.